I have been on a course for the last week and decided to take a couple of rods just in case I got the chance to get out for a few hours on an evening. I had a quick search online and found a fishery which was close to my accommodation. After finishing the first day of the course I was glad I bought some rods as I didn't need to do as much ' homework' as I first thought. I managed to fish Monday to Thursday evenings from roughly 5pm to around half eight.
Monday
I caught a small ide on the first cast which was tight to an island, but struggled for a further bite for the next 30 minutes. I then started fishing the margins and started catching small crucians and tench pretty much straight away. After the 2nd or 3rd crucian I had one of 1lb 4oz which I think is a new personal best, unfortunately I didn't take a very good photo and as there is a no keep net rule I couldn't get a better one later. I also lost a decent carp (unseen) from the margins.
Best crucian 1lb 4oz
I ended the evening with -
7 crucian largest 1lb 4oz
5 tench
1 carp
1 ide
1 perch
Tuesday
On Tuesday I fished at the opposite end of the lake as it was quieter there, the fishing was quieter as well and I struggled for the first hour or so. The first bite I connected with fought hard and went like a torpedo, it ended up being a surprise rainbow trout of 2lb 7oz. This was also a personal best as it is the only rainbow trout I have ever caught. I took a quick photo in the net as I wanted to get it back quickly as it wasn't in the best condition.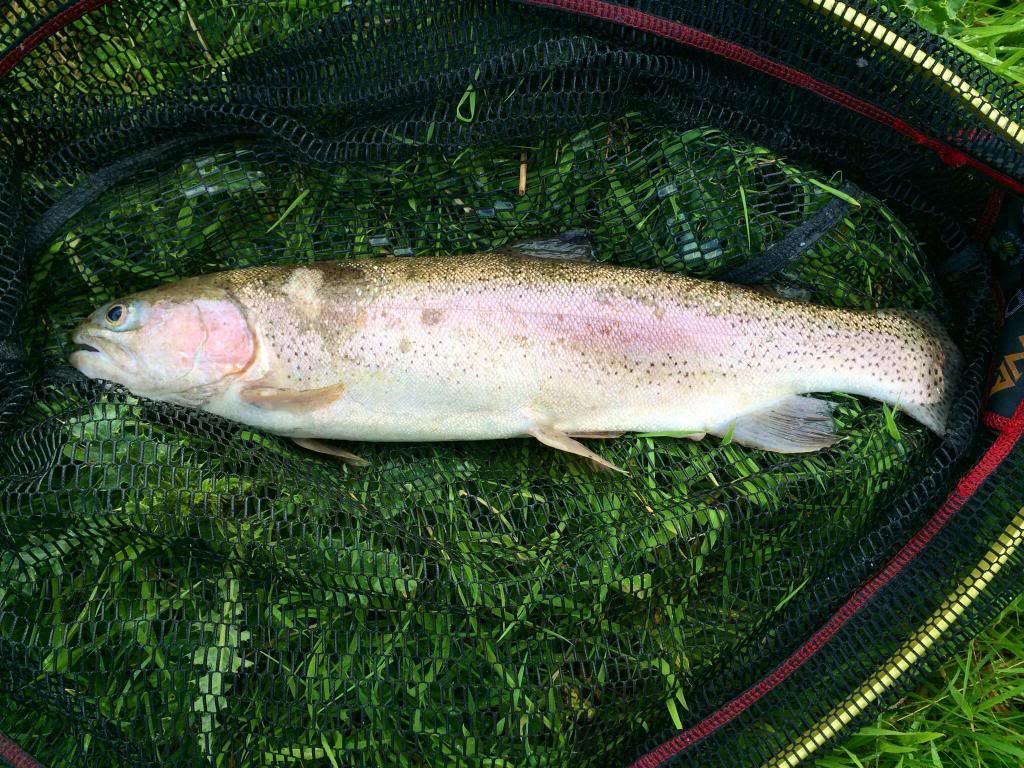 My first ever rainbow 2lb 7oz
I finished up with -
4 crucian
3 tench
2 perch
1 roach
1 bream
1 rainbow trout
Wednesday
Half the lake was sectioned off for a match so I had to fish the quieter end again, however I decided to fish the opposite bank near a thick reed bed. It was hard going and I was struggling for a bite and it seemed that the other anglers fishing this side of the lake were too.
Eventually I caught a couple of perch, a roach and a small ide, nothing of size really and I was beginning to get frustrated then I had a run from a margin swim I had been baiting up. The run turned out to be a small ghost carp of around 3 or 4lbs, it fought very hard (as ghost carp usually do) and I was slightly disappointed when it came to the surface, as it fought as if it were much larger.
I hair rigged 4 pieces of corn and dropped the rig into the same spot, rebaited and sat back for the final 45 minutes or so. Nothing happened on either rod and I decided to pack up, I left the margin rod out for as long as I could whilst packing everything else and just as I was about to pick it up the alarm went and the baitrunner started spinning. I struck into the fish and it felt a lot larger than anything I had caught during the week. The fish fought very hard and pushed the tackle I was using to the limit, it managed to get into the large reed bed twice but some how I managed to bring it out. Eventually after a good 10 minutes and a couple of attempts I netted a large common carp.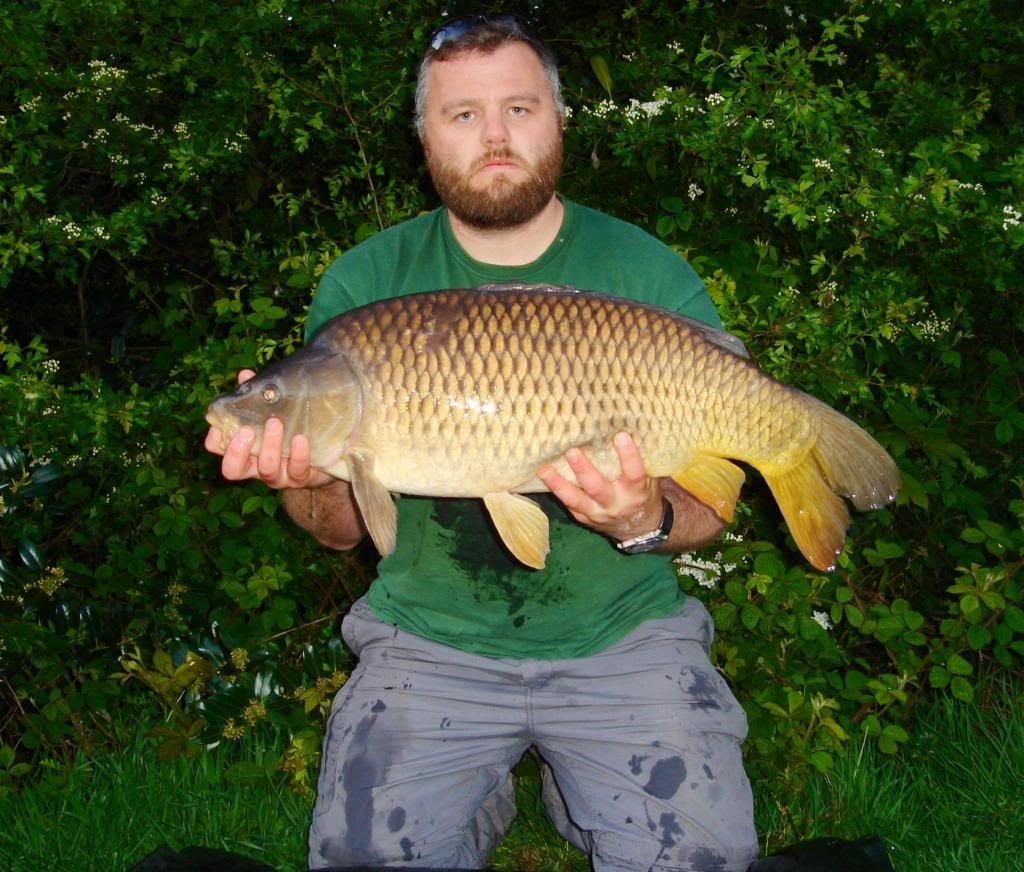 New best at 16lb 10oz
I thought the carp was going to be close to the 20lb mark, however the avons (only) went to 16lb
10oz but I was still very pleased as it was a new personal best for me, by a couple of pounds. I was surprised that I managed to land the carp on the tackle I was using, a Drennan series 7 1.25lb avon rod and 6lb line obviously not ideal for carp of that size. The rod performed well and despite being bent through to the butt on occasions I felt in control, well most of the time anyway.
Wednesdays total -
2 perch
1 roach
1 ide
2 carp
Thursday
The lake was fairly quiet with only two or three others fishing, I fished a peg near where I had caught the bigger crucian in the hope of catching a few more. I fished similar tactics as the previous days with 1 rod float fishing the margins and the second with hair rigged corn or pellets. The crucians did occasionally show the were no larger than 10 ounces or so. I managed a few bream with the largest two being 3lb 15oz and 4lb 5oz, which was pleasing as these are the largest bream I have caught for a few years.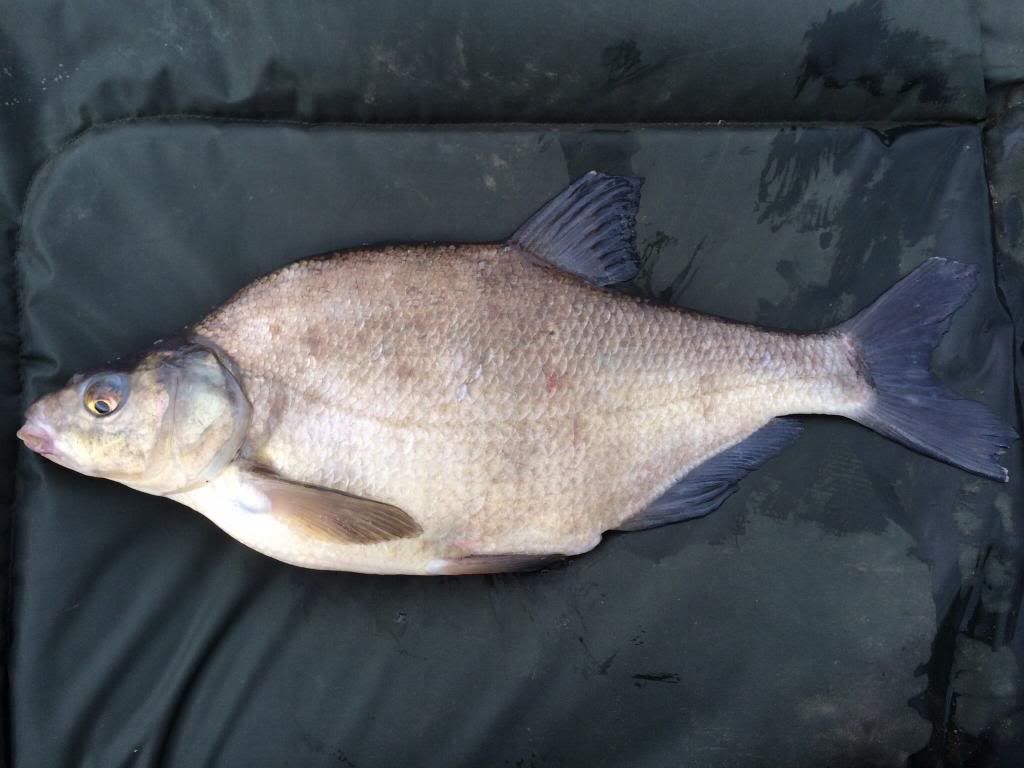 3lb 15oz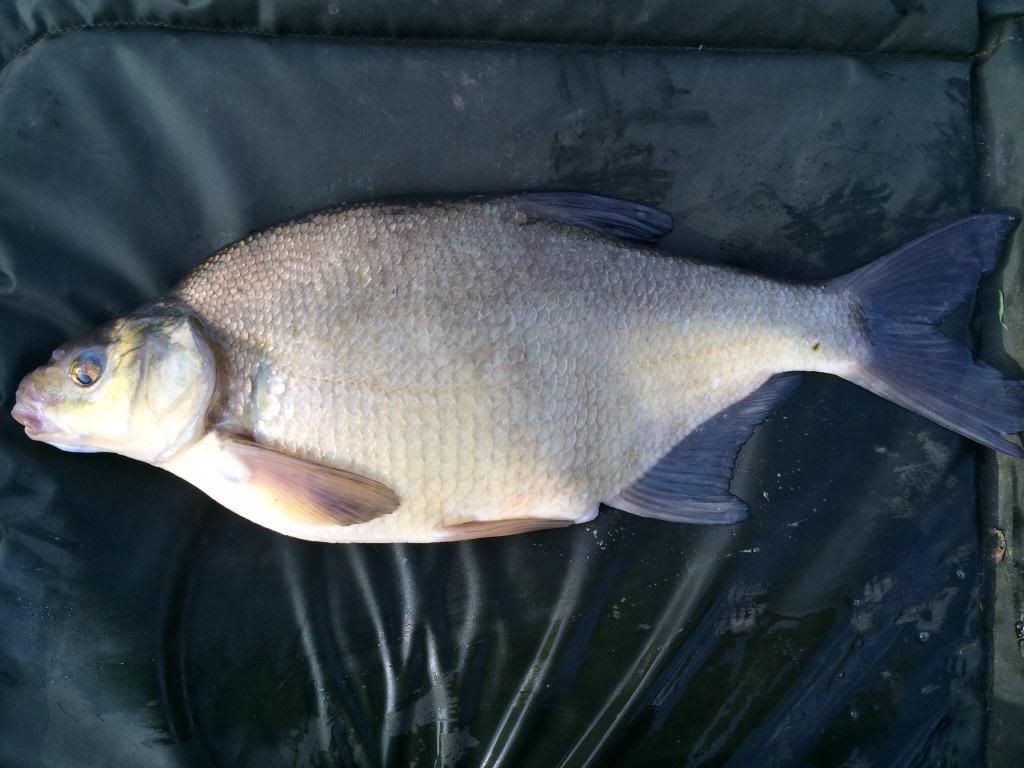 4lb 5oz
Thursdays total -
8 bream
6 perch
3 crucian
1 golden orfe
1 ide
1 roach
Although I normally prefer to fish quieter, more natural venues I thoroughly enjoyed the 4 short evening sessions I had at Nether Mill. I managed to catch a few species that I hadn't caught in years and managed to up a few personal bests. The fishery has a club like atmosphere and the bailiff 'Alan' is very helpful, at £4 for an evening and £5 for the full day I feel it is fairly priced as well.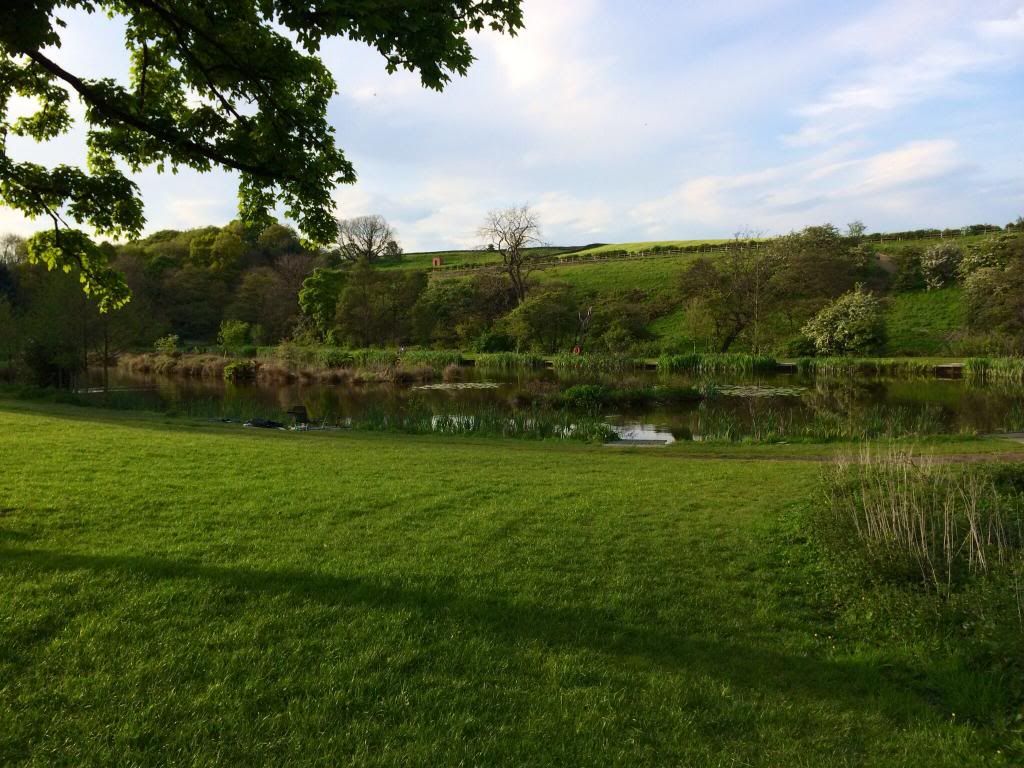 A nice spot to spend a few hours
If any one is looking for somewhere to wet a line in the Barnsley/Penistone area I would definitely
recommend
Nether Mill Fishery
Now I just need to find somewhere closer to home with a decent head of crucian.....