After an early start I was parked up by 5 and was making my way through the fields toward the stretch I fished on the 16th, usually a peaceful 10 minutes walk, however today the fields were full of cattle. Normally this isn't a problem but the young bulls have put on size and gained confidence and they weren't happy with me being in their field. After a couple of aborted charges I decided to jump a fence and walk the (very) long way round. I was set up and feeding the swim by 6 and had a minnow sized chub on the first cast.
I decided to feed more heavily than I did on the last stick float session, hoping to attract the larger chub. In total I had 6 pints of caster, hemp and maggots and I was confident that I could entice something bigger than last time. After 20 minutes or so I was getting a bite each trot down the swim mainly roach in the 2 - 6oz range with the odd small chub. After a change to caster as hook bait a better fish was hooked, a decent perch of about a pound and a half but the hook pulled as I was bringing it over the net. The next two fish were both perch, one just over and one just under a pound. I was hoping that I could get one over two pounds as I have set myself that target this year, no other perch came to the net though.
Caster caught perch - both around the 1lb mark
The swim kept going dead for 10 to 15 minute spells and then I would start catching again, I had a feeling that a pike was in the area. It was confirmed when I saw a pike striking at fish in the far side margin. A decent pike then followed a small dace to the net and stayed a couple of rod lengths out, probably waiting for my next catch. I quickly put a roach on my pike rod and within a second of the bait touching the water the roach was gone. The fish gave a good account of itself with a few runs down stream and a bit of tail walking but I had a feeling that it wasn't the pike I had seen on opening day. After I netted the pike it was obvious that it wasn't the one from Monday, but it was still a good double. The fish went 12lb 10oz but looked bigger as it was very long for its weight, as is often the case with pike this far upstream.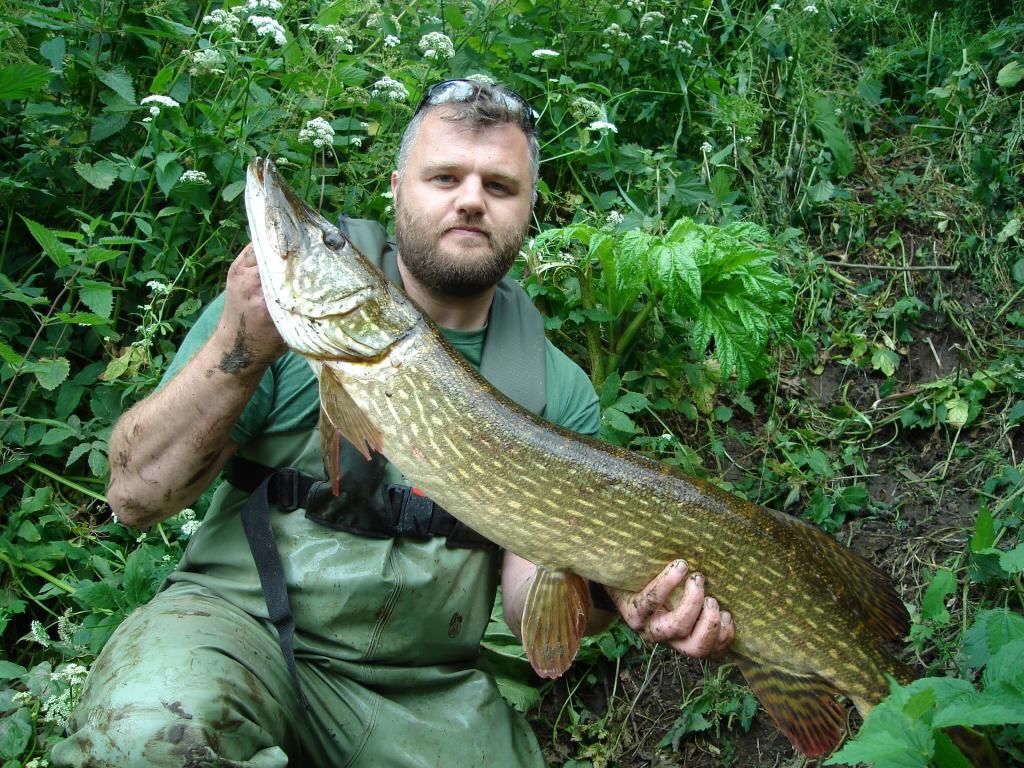 Lean fit river pike
After the pike I had a few more roach, but the sun came out and I struggled in the bright conditions. Other than the perch and pike I had plenty of roach to 10oz, dace to 6oz and a few very small chublets.
Tip of the day!
If you use one of those self-inflating mattresses as an unhooking mat it's not a good idea to stand on it whilst wearing studded waders!